MC Work
Listen to Ali's CDs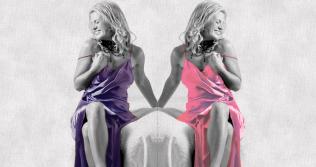 Click 'find out more' to hear music clips from all of Ali's 7 CDs.
Find out more
SELECTED FEEDBACK 
MC and performances for Paperdoll and Wallflower
September and November 2022 (Raumati South and Kapiti, Wellington)
"When it came to a special birthday for my boutique Paperdoll… I knew I wanted a certain type of atmosphere. Fun , playful and a night to remember.
Well Ali Harper nailed it all . My customers are still talking about Paperdoll's 10th birthday… What a memorable night!!
 We are continually blown away by Ali's ability and her performances are outstanding. We are very happy to  recommend Ali for all your events…. Big or small .
 We will definitely be hiring Ali again and again."
 Trina Laracy
Owner of Paperdoll (Raumati South) and Wallflower (Kapiti Coast)
MC and CABARET for Probeauty Award / Gala night 2022
28th October 2022 (Christchurch Town Hall, Christchurch)
"Thank you so much for your wonderful contribution to our successful event on Friday. Our guests thought you were spectacular and we couldn't have been happier.  
Having you to help with the awards was just perfect and as for the opening medley.  Wow!."
Nicky Quinn
Owner ProBeauty
MC for NZPA National Conference 2022
28th - 31st August 2022 (Rydges Hotel, Christchurch)
"Thanks for being a wonderful engaging MC. All feedback so far has been very positive and your contribution to making things run smoothly was fantastic.
Thanks Ali and I sincerely hope we get to work together again. I will get a uniform ready for you for that acting part."
John Purcell
Chairman
New Zealand Parking Association
MC for Airways Safety Conference 2022
28th June 2022 (Te Pae, Christchurch Conference Centre)
"When our MC was taken down by illness the day before our conference, we needed someone who could step in at short notice and help keep our day on track.  Ali was recommended to us and what a recommendation that was!  She made herself available to meet with us the afternoon before the event to run through the day. She had already done some research into our organisation and came prepared with a list of questions. 
On the day, Ali was professional, energetic and engaging. Not only was she a fantastic MC on stage, she was amazing at helping to support our speakers – a number of whom had also stepped in at short notice. 
We received great feedback on how professional our event was, and a lot of that can be attributed to Ali keeping us on track, ensuring seamless transitions between speakers and maintaining the energy in the room throughout the day". 
Jamie Gray
Head of Public Affairs & Communications
MC for NZCFI Conference 2019
11th - 12th September 2019 (Blenheim)
"Ali was terrific as both an MC and entertainer at our conference. I had many of our guests (delegates) comment to me how she welcomed them personally to conference during the very first morning tea on day 1. Top marks for that one particularly for our 2 Australian guests. 
They were truly moved by her performances on and off the stage. Ali's light-hearted words came at just the right times which broke up what can be a very 'dry' subject matter event. 
 Her introductions of all our guest speakers and thanks to them were handled very professionally." 
Owen Goodwin
Executive Director
The New Zealand Credit & Finance Institute 
MC for Digital Health Week NZ 2019
18th - 22nd November 2019 (Claudelands Events Centre, Hamilton)
A 4-day conference with world class Health Experts at the Claudelands Event Centre in Hamilton. 
MC for Emerging Tech in Health Conference 2019
21st - 22nd May 2019 (Christchurch)
An amazing 2 day conference with world class Health Experts at the Rydges Hotel in Christchurch. 
"Ali was MC for our 350 person health-IT conference in May 2019. She did a fantastic job keeping 40 speakers running to time and maintaining audience attention throughout two days of fast paced presentations.
Ali has a lovely balance of focused professionalism and a relaxed engaging style onstage. Highly recommended MC!"
Kim Mundell
CEO, Health Informatics New Zealand (HINZ)
MC for Home and Family Charity Function 2015
29th October 2015 (Christchurch)
A great night for a great cause with 400 guests at the Christchurch Casino with a Dancing with the Stars theme.  Ali MC'd and entertained throughout the evening at the Maschino Lounge. 
 "Ali, thank you so much for a star performance last night at Home and Family's DWTS. You were sensational and loved by all! 
Phillip Duval
Home and Family, Chairman of the Board
Here Ali is pictured with Chystal Chenery, the new ambassador for Home and Family, and Dancing with the Stars 'stars' Jonny Williams and Kristie Boyd.
MC for Singapore Airlines VIP Function 2014
10th February 2014 (Christchurch) and 26th March 2014 (Wellington) 
Ali MC'd and entertained throughout the evening with 60 VIPs.  At Harlequin House in Christchurch, and Logan Brown's in Wellington. 
 "We had an amazing night and you really made it extra special and very entertaining! and... your voice... amazing ! "
Kate Mayo
Singapore Airlines, South Island Sales Manager
MC for SKAL 2013
26th July 2013
Ali MC'd and entertained throughout the evening.
The event celebrated the New Zealand Congress Dinner at the George Hotel, Christchurch. 
  "A fantastic Mistress of  Ceremonies". From the time she welcomed everyone she had the delegates and their partners in her hand with the professionalism that she portrayed interspaced with amazing singing and interaction with the group. Our Australian delegation was so impressed they want her to attend a future event for them." 
Leighton Cameron
President Skal International Christchurch

MC for CANTERBURY CYSTIC FIBROSIS FUNDRAISER 2013
24th May 2013 
Ali was invited to MC and perform at a charity fundraiser for Canterbury CF. It was held at the Burnside bowling club, and over 200 people attended the fundraiser which included a charity auction. Over $30,000 was raised on the night for a fantastic cause. 
"I had the pleasure of assisting as a licensed Auctioneer recently for a great fundraising cause---Cystic Fibrosis.I take this opportunity of extolling the performance of Ali Harper the appointed M.C for the evening.She was very professional,clear and engaging and even entertained with a number of songs from her vast repertoire.I have been fundraising for charity since 1983 and Ali Harper would be among the best frontpersons I have encountered over the years.Naturally I have no hesitation in endorsing and recommending her as a real professional package."
Norm Withers
M.N.Z.M, retired Deputy Major of Christchurch
CHRISTMAS FUNCTION FOR SKAL 2012
14th December 2012 
Ali was invited to perform at the annual Xmas function for SKAL.  Ali performed an hour set, with professional backing tracks.
"It was great to have Ali Harper perform at our SKAL International Christchurch Christmas Luncheon
at The George Hotel on 14 December 2012.
She wowed our guests with some fun songs, carols and a delightful duet with our President. 
We have booked her to be the Master of Ceremonies at our NZ Congress in July 2013 - she is that great!!!"
Peter Morrison
President, SKAL International New Zealand
OPENING OF NZ COLLEGE OF MIDWIVES (NZCOM) 2012
12th December 2012 
Ali was invited to perform at the opening of the new NZCOM building in Manchester Street.  This is a new building which was constructed after the earthquakes of the last couple of years, and as such received a bit of media attention.  Ali performed an hour set, with professional backing tracks.
"On a warm and sunny celebratory day Ali Harper's singing was the jewel in the crown at our building opening function.
Many thanks Ali for being there with heart and soul".
Karen Guilliland
NZCOM CEO

MC for HANZ Annual Awards Ceremony 2011
November 2011 at Air Force Museum of New Zealand
Ali was the MC with a difference for the evening. 
"Professional, slick and entertaining… A good job very, very well done".
Bruce Robertson
CEO, Hospitality New Zealand