Up Close and Personal
Listen to Ali's CDs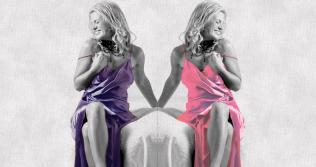 Ali was excited to launch her 6th CD "The Look Of Love" in March 2020. This along with the other 5 albums showcases Ali's versatility and eclectic taste is music. Click here to hear music clips from the CDs recording, and to order signed copies.
Find out more
onwards at The Court Theatre
see website
What happens when musical theatre actress Ali Harper and jazzman Tom Rainey join forces? Come and find out!
In this special cabaret production, you'll be served dinner and entertainment in equal measure as Ali and Tom open their extensive songbooks to create a show that promises to be a musical feast for the heart and soul.
In the tradition of an intimate New York cabaret club, join us for dinner and get Up Close & Personal with two of New Zealand's finest entertainers as they share inspirational tales from their own lives that are familiar to us all.
The shows are at The Court Theatre, Christchurch.
CABARET CONVERSATIONS with Ali
Promoter Note:
The evening shows were so popular they were completely booked out 4 weeks prior to the first peformance, so a matinee was added for Saturday the 8th of August (at 2pm)